Wednesday, September 5, 2007
I have a lunch in a place that served Banyumas-an food, One of the main course is Sroto, you can hava Sroto with chiken, or Sroto with a beaf. Instead order Sroto, I order Lontong Opor Ayam or you can call it Javanese braised chicken in coconut milk, since I want have a lunch that's light but still tasty enough.
My choice was not wrong. Many food that have a coconut milk has heavy taste, but not this one, my lontong opor ayam still very light and yet quite tasty enough. and as a bonus, the chily souce (or sambal) is quite good, remind me of my home though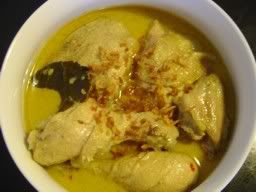 The picture is not the one I eat, but quite resemblence enough :).
So how' much for one portion Opor Ayam, I only spent Rp. 12.000,- with tea as my drink.
now , back to work
Diposting oleh tumbletooth di 11:58 PM

Label: enak, lontong opor ayam, lunch